A Community Art Exhibition
If you haven't heard about this event, you really should check it out. To celebrate their 85th anniversary, the Wichita Art Museum opened some space to promote and display local artists. Their goal is to strengthen the Wichita Art community by inviting artists to share a work of art to get their "foot in the door." Furthermore on the event's webpage, they wrote, "economic studies attest that a vibrant art scene is a leading ingredient in any prospering city." And Wichita's art community is certainly growing and becoming vibrant.
Event Details
The event was open to anyone who identified as an artist, regardless of skill level. The event officially opened on Saturday, October 10th, 2020 and will remain open through Sunday, April 18th, 2021. You can view all the local pieces in the Paul Ross Gallery and the Scott and Carol Ritchie Gallery.
If you aren't familiar with the Wichita Art Museum' location, you can click here. Also, I've included their hours below:
Sunday: 12pm – 5pm
Monday: Closed
Tuesday: 10am – 5pm
Wednesday: 10am – 5pm
Thursday: 10am – 5pm
Friday: 10am – 5pm
Saturday: 10am – 5pm
Additionally, if you're worried about COVID-19, you can click this link to view WAM's safety information and Visitor Code of Conduct.
Why We Entered
My wife got wind of this event because she saw a post on social media and immediately signed up. After explaining what it was, she helped me sign up for it also. Both of us appreciate and support the "Local" movement that is taking Wichita by storm. A large part of this is the local art movement. We felt this event would bolster the larger community and get new local artists involved in the art scene. So, as soon as we received confirmation that we were accepted, we each got to work creating a piece for submission.
Local Artist, Bethany Prideaux (AKA My Wife)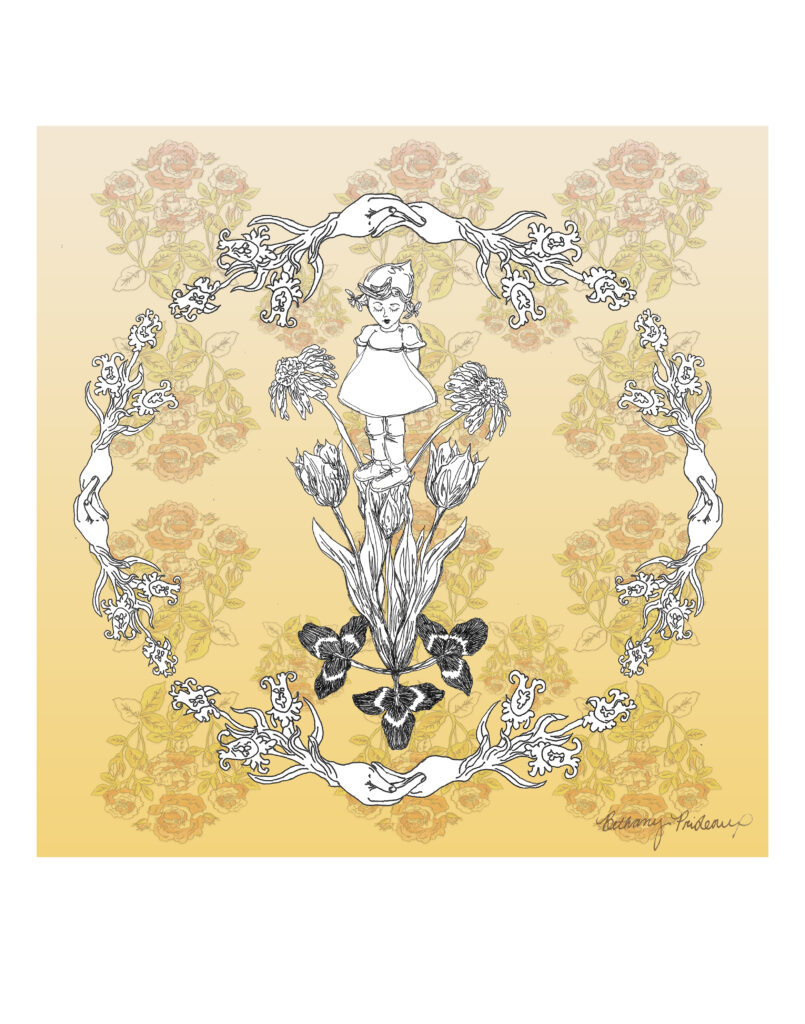 Above, you will see an image of what my wife submitted. She used a combination of hand drawings and Photoshop to create this piece. She started out by drawing all of the assets in this print by hand. Next, she scanned them individually and put it all together using Photoshop. You can see more of her drawings here.
In order to understand how she came to create this unique piece, it is important to understand where she draws inspiration from. Please check out her website to learn more about her.
Local Artist, Jeremy Chabot (AKA Bethany's Husband)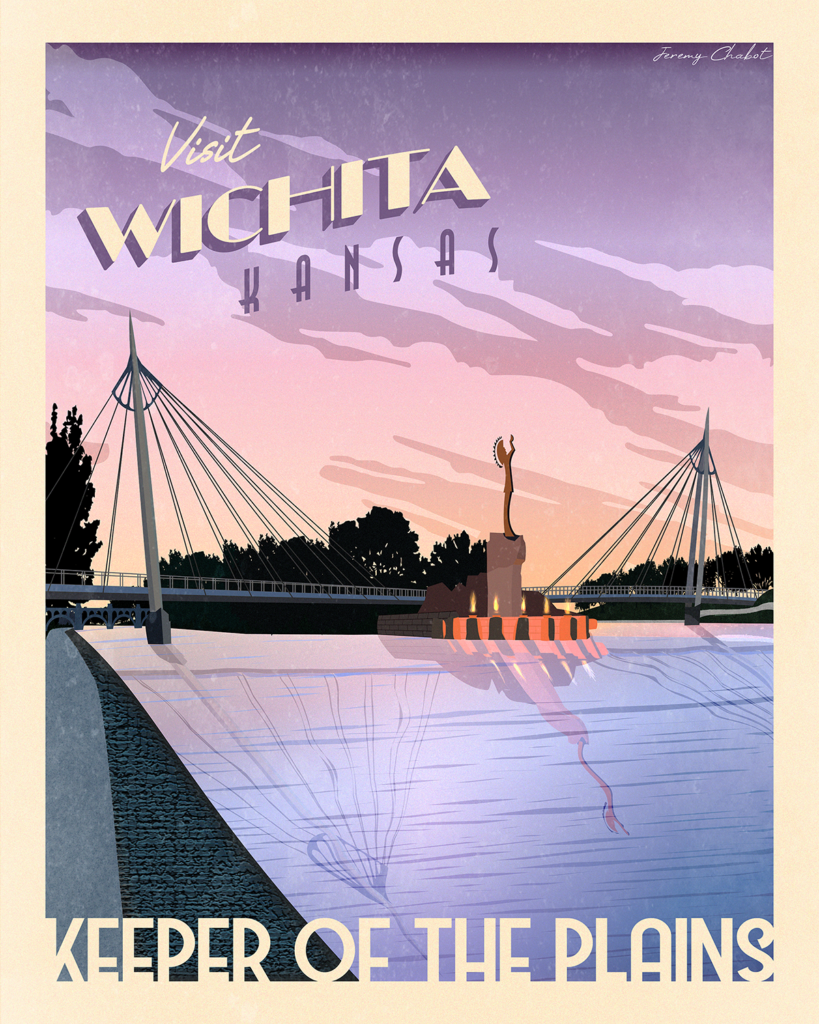 The image above is the print I submitted to the "Foot in the Door" event. To start with, I googled "Keeper of the Plains" and used several of the photographs that popped up as my inspiration. I primarily worked in Illustrator to create each of the shapes, objects and text that makes up over a dozen different layers. I mainly used the pen tool, but I also utilized the perspective grid, textures and gradients tools. You can see more of my prints on my home page.
For more information on how I got into making Vintage Travel Posters, please visit my blog post.
In Closing
Please support your local artist. If you're looking for something fun or different to do in Wichita that is inexpensive, this event might be what you're looking for. WAM members and children get in free. Adults only pay $10, Seniors pay $5 and College students with ID and youths ages 5-17 pay $3.
List of All Participating Artists
Click on this link and scroll down to view a list of all artists who are participating in the event. So use that Ctrl (or CMD) + F to search for someone you know!